Prismatic and Ola Sonica
Beach Bums
with BIG FUN, Hold Fast
September 25 @
7:00 pm
( Doors:

7:00 pm

)
La Santa
Ages 18 and Up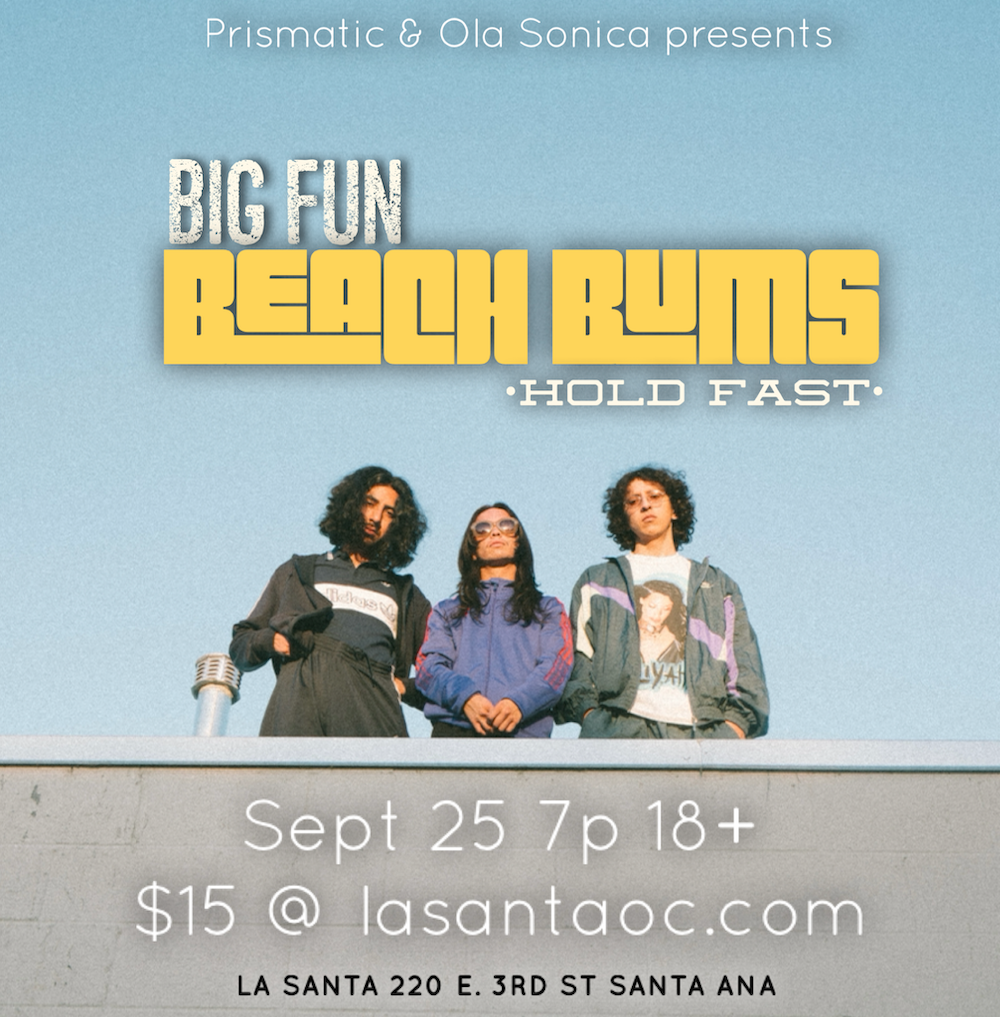 Artists
Beach Bums
Beach Bums - YEARS
YEARS, the latest LP from Los Angeles art collective Beach Bums, is a celebration. Most of the genre-defying group's previous releases are permeated by feelings of depression and anxiety, self-loathing and an unshakeable sense of early '20s ennui. From YEARS' opening track, however, that dark cloud is replaced by a triumphant air of satisfaction and excitement. A massive crescendo of twinkling guitars and punishing drums builds to a statement of gratitude for newfound love and Beach Bums' supporters from vocalist/guitarist/producer Jonathan Horsley (aka Jawntang) as he croons, "I'll wait for you through hours, I'll love you on for years, I'll take all my power to wash away your tears."
Beach Bums core members consist of Horsley, drummer/producer/rapper Keanu Harvin (aka Kunu), bassist Elijah G. Alamo, and the groups newest addition, synth/keys player Joe Contreras. This core ensemble has spent the last few years releasing a slew of genre-spanning records that range from hardcore punk to lo-fi hip-hop, garage rock to trap, and surf rock to metal. 2017's aptly named Everything brought all of these influences together, while the group's 2018 follow-ups I Want to Sleep Forever and The Goat (Pts. 1 & 2) showed a more measured approach, instead focusing solely on indie rock and hip-hop, respectively. These records, paired with the group's reputation for their wild live shows, led to shared bills with acts like King Krule, Balance & Composure, The Drums, Jhené Aiko, Kali Uchis, Chicano Batman & more, and resulted in praise from Bandsintown, Flood Magazine, Janky Smooth & more, with OC Weekly dubbing Beach Bums, "The Wu-Tang of Los Angeles punk."
The new LP YEARS finds Beach Bums shedding much of their previous aggression in favor of more melodic experimentation. One of the album's stand-out tracks, "Ash" is a dream-pop and New Wave inspired song that puts Horsley's vocals at the forefront, backed solely by minimalist, sparkling guitars and a drum machine. The bare-bones approach allows the song's—and album's—central thesis to stand front and center: there's a light at the end that makes the darkness worthwhile. On "Keepaneyeout," Horsley's lyrics focus on the duality of love, eschewing typical proclamations of infatuation in favor of the pain that goes along with having to say goodbye to someone you love, and the simultaneous increase in longing and desire.
The deftness with which Beach Bums leap across genre lines astounds, largely because it's so impressive to see a group tackle so many different styles and artistic media without coming across as contrived or as some sort of marketing ploy. It's this transparent sense of honesty displayed through the collective's albums and live shows that grants Beach Bums the ability to create art and express themselves in multiple disciplines while still feeling genuine. To Horsley, this is a point of pride and the keystone for the group's expression. "If it fits with our lifestyle, and it's honest...We're already doing everything, why not do something else as well?"
Much of the group's genre-spanning inspiration and DIY sensibility comes as a result of their early years playing house parties outside of L.A. "We started out playing these crazy backyard shows in the Inland Empire. It was so boring out there, so everyone would come to these shows. You'd have, no joke, like three hundred to five hundred kids in a backyard just going
wild," says Horsley. "And they'd be all kinds of kids; punks, skaters, hip-hop heads, jocks. We started out as a punk band, but all of our fans were into so many different things, so we just started saying 'fuck it' and writing whatever we were into." Since then, this mentality has become a cornerstone of the group's ethos, that accessibility and communal expression are best fostered through a DIY, community-driven approach.
Instead of culling their DIY inspiration from the punk scene, however, Beach Bums largely take their cues from the hip-hop community. "In hip-hop it's such a common thing for people to collaborate with each other, but in rock & roll it's so rare that bands come together and make a song," says Horsley. "So we wanted to bring in some other people and work with them and incorporate their sound into what we're doing." The result is YEARS' closer "Dark Angel," a muted, dreamy track that features vocal contributions from The Red Pears' Henry Vargas, and perfectly captures Beach Bums' communal spirit and bold-faced refusal to be categorized.
Though to their fans, Beach Bums' rise to prominence has happened seemingly overnight, the group has been grinding for years, honing their craft and ensuring that they will be around for many more to come.
YEARS is out July 26th.
bio by John Graffo of Baby Robot Media