Little Miss Nasty
with Gina & The Eastern Block, Dead Posey
May 28 @
9:00 pm
( Doors:

8:00 pm

)
La Santa
Ages 18 and Up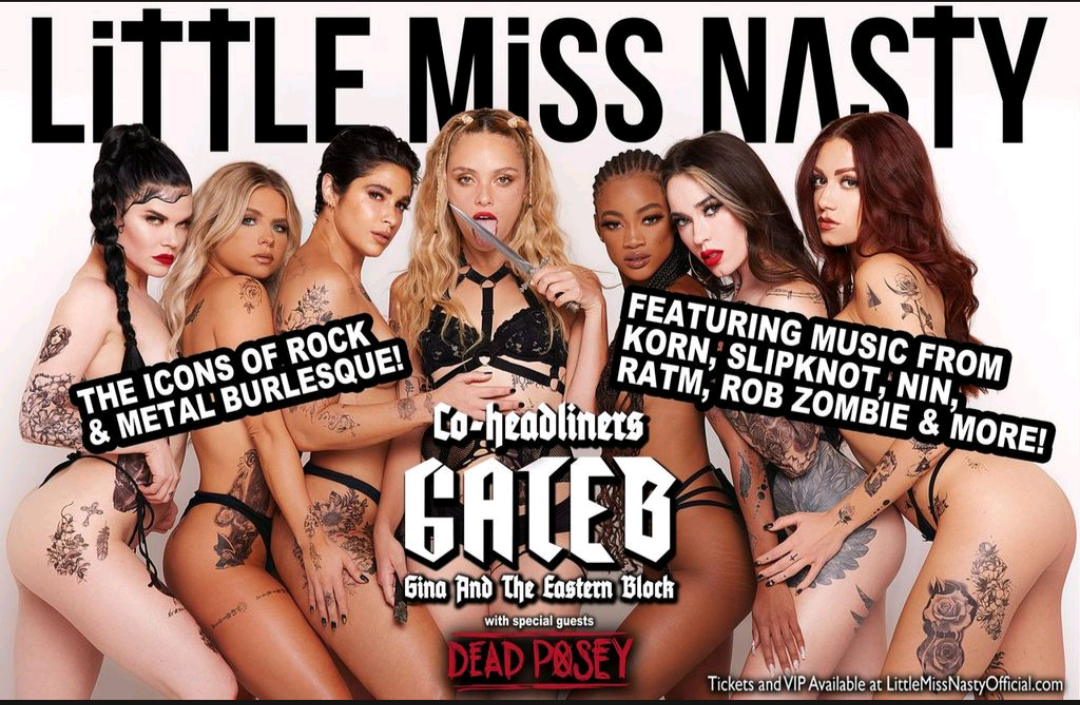 Artists
Little Miss Nasty
Little Miss Nasty Little Miss Nasty are the innovators and iconic pioneers of Rock and Roll Burlesque.Beautiful women. Ridiculously talented performers. Absolutely the most badass rock and metal (and even some hip hop) Vegas style production that you'll ever see! The Little Miss Nasty live experience is a professionally choreographed production featuring some of the entertainment industry's best dancers, aerialists, vocalists and contortionists. The show is full of over the top visuals and blazingly cool music fromKorn, Slipknot, NIN, RobZombie, RATM, IC3PEAK and others along with surprises that leave jaws on the floor and memories fired up. Everyone leaves a Little Miss Nasty show feeling sexy, empowered and full of adrenaline (seriously everyonedoes)!

What started as an underground, must see show at LA's historicViperRoomin 2012 has since developed into a globally recognized lifestyle brandand highly produced international touring spectacle.Little Miss Nastyhasnewly released original songs on your radio dial as well!

In 2022 Little Miss Nasty is simply dominating! With current ongoing sold-out residencies in Los Angeles, Long Beach, and San Francisco as well as a Las Vegas residency Little Miss Nasty also is force to behold as it tours North America regularly.

In fact,Little Miss Nasty has performed in front of well over half a million people and counting. Little Miss Nasty has toured along side artists such asIn This Moment, Motionless In White, Starset, New Years Day,Gina And The Eastern Block, DED, Orgy, Genitorturers, Lords Of Acid,and others, as well as having headlined 5 of their own North American tours.

Not only that, but the extensive dance resume of the individual membersmakesLittle Miss Nastya force to reckon with. They have been the mainbackup dancers for the likes ofNicki Minaj, Britney Spears, Beyoncé,Lady Gaga, J.Lo, Christina Aguilera, Justin Bieber, Pitbull, Katy Perry,Usher, Ariana Grande, Ne-Yo, P. Diddy, Tiësto, Gwen Stefani, EmpireOf The Sun, Backstreet Boys, Ciara, Chris Brown, French Montana,Big Sean,andNick Jonas. The members have also performed on countlessMTV VMAs,The Grammys, and have been featured inThe PussycatDolls Burlesque Showas well as duringJustin Timberlake's Super BowlXXXVIII Halftime Show.Little Miss Nastywas hand-picked byLadyGagato perform as the sole entertainment for the"American HorrorStory: Hotel"cast premiere party, and was alsoRob Zombie's choice of performers for a livestream broadcast of his record release party.Little Miss Nasty Instagram
Gina & The Eastern Block
Gina And The Eastern Block

Gina And The Eastern Block (aka GATEB) is an American band formed in Los Angeles. The band was formed by record producer Marc Jordan(Slash,The Mowgli's, The Cult, Stitched Up Heart, Bleached, Little MissNasty) and uniquely talented and blazingly sexy vocalist Gina Katon. GATEB's touring unit includes Creighton Emrick from Orgy and has also featured Fred Sablan fromMarilyn Manson.

Strip Club Anthems! GATEB released their debut single, "Sippin' On A Forty" in 2016 and attracted significant attention for the over the top salaciousness and sexiness of the accompanying music video for the song. The song payshomage to boredom, day drinking and lipstick lesbian sex. The dark, brooding, hip hop infused track "Bootsy Wally" (also released in 2016) has enjoyed significant popularity as well. Both songs have become verifiable stripper anthems inspiring many people to post performance videos online. #sippinonaforty #bootsywally

The band released the raucous and nasty rocker "Get Gone" in late 2016."Get Gone" has received significant air play on BBCRadio1 probably because it is the perfect "go fuck yourself" anthem.

The band released several more singles including "I Love You I Hate You", "Big Black Van", "Wasted" and "Fuck The System" in 2018 and 2019.

The quarantine of 2020 enabled GATEB to write, record and release "Bloodsucker Motherfucker" featuring Kevin Thrasher from Escape The Fateas well as a nasty cover version of the Nine Inch Nails masterpiece "Head Like A Hole".

"The Insanity" was released in March of 2021 and is the first release from the band's deal with Symphonic Distribution."Pussy Gon Eat You", released in May 2021,is a highly infectious electronic and alternative metal track co-produced by hip hop and electronic musicproducer The Snowy White Owl and Marc Jordan."The lyrics to "Pussy Gon Eat You" are not for the faint of heart. This song is 'Pussy Power' on crack. I did things vocally that I've never done before. I got weird!", says vocalist Gina Katon.

The band is putting the finishing touches on a handful of more new songs expected to be released during the of spring of 2022 including a mindblowing collaboration with Little Miss Nasty and Heidi Shepherd fromButcher Babies.Gina And The Eastern Block has gone on numerous national and international tours and has amassed a large cult following across the world.
Dead Posey
Dead Posey BIO (Feb '22) LosAngeles-bred rock duo Dead Posey have punctured their proverbial vicious vein by serenading a posse of devoted followers with fuzz-guitar infused rock-and-roll and edgy yet timeless-soundingvocals that pack an anti-establishment punch. When Danyell Souza(Lead Singer / Producer) and Tony F.(Guitarist / Multi-Instrumentalist / Producer) met, they quickly tapped into an undeniable chemistry that led them down a cathartic path of creating hard rock sounds riddled with unsettlinglyrical themes ranging from sexism, depression, angst and rage against oppressive systems —alldoused with a healthy dose of "DGAF" attitude yet still seeing the beauty within the madness.

In 2018, Dead Poseysunk their venomous fangs intothe scene with their self-produced debutEPFreak Showand standout track "Don't Stop The Devil",which has over 23M+ digital spins, followed by the darker and more industrial-tinged Malfunction EP in 2020. Most recently, the duo dropped singles "Russian Roulette" and "Sorry I'm Not Dead"- adrenaline-inducing rockers bothlisted on Loudwire's "Best Rock + Metal Songs"(of August and November 2021, respectively), the latter track praised for its"industrial-leaning rock...with edgy, badass attitude."Music programmers also took favor as the tunes were added to rock tastemaker's playlists including Spotify's-Rock Hard, New Noise, and All New Rock editorial playlists and Apple's Breaking Hard Rock & New In Rock. Feeding a monstrous appetite for live performance, Dead Posey has unfurled their punk-infused high-octane shows at notable festivals such as Louder Than Life, Aftershock, and Shiprocked,and played on illustrious stages such as Rock City and Electric Ballroomin the UK,Gramercy Theaterin NYC among other iconic venues throughout North America.The band looks forward to forthcoming tours and an appearance at Download Festivalin thesummer of 2022 in the UK.Alsoon the horizon is Dead Posey's next single,"Can'tTake Me Down"— a relentless and snarky blast of strength slated for March '22 release.Dead Posey's music has been heard inFox's Lucifer,MTV's Teen Wolf, Marvel's Cloak &Dagger, and Netflix's Jack Whitehall – Travels With My Father among others, as well as in ads for Taco Bell, Sony PlayStation, Riot Games 'League of Legends, Back 4 Blood, and many more.The duo has additionally received positive mentions from the likes of The Huffington Post and Guitar World Magazine. Like vampires craving blood, Dead Posey's hunger for unapologetic creative expression is deeply intensifying. Danyell and Tony have steadily begun to uncage their years work of titillating and provocative sounds into the headphones of hardcore musical pariahs and grungey sound-systems abound. Meanwhile the ever-growing Dead Posey faithful anxiously await their debut full-length album in 2022