Holy Wave
with Mint Field
August 27 @
8:00 pm
( Doors:

7:00 pm

)
La Santa
Ages 18 and Up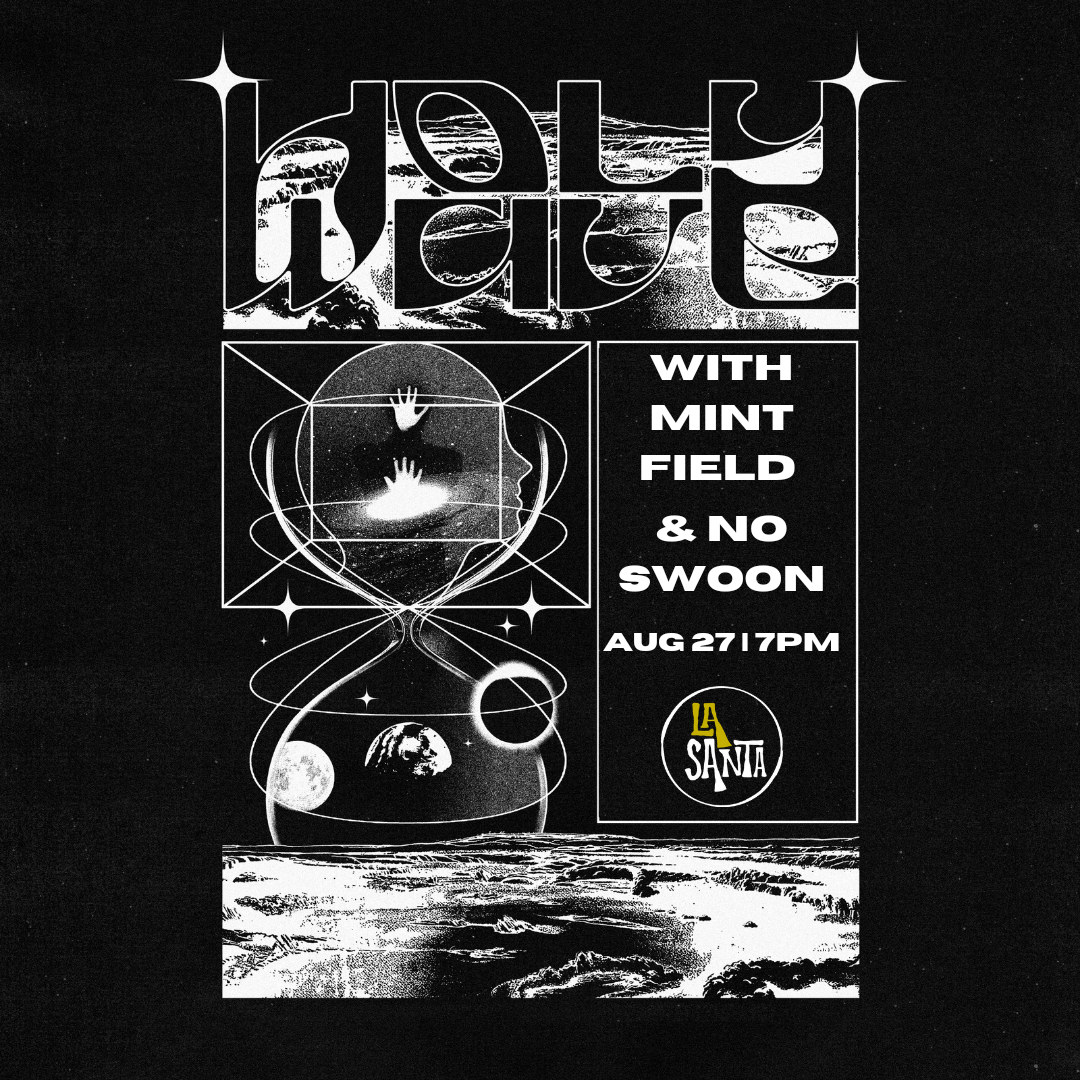 Artists
Holy Wave
Holy Wave is an experimental dream-pop band originally from El Paso, Texas. After seeing a life-altering performance by My Bloody Valentine in 2008, the band moved to Austin to pursue their own vision of Texas psych, their sweet melodies dyed in carefully constructed noise.
Over the course of four albums, the band have cemented themselves as a staple force in the international indie scene, with key performances at Levitation, Desert Daze, and nearly every psych gathering on the planet. They've toured the world, and shared the stage with heroes such as Slowdive, Spiritualized, Hope Sandoval and The Black Angels. Their body of work has received critical acclaim from Pitchfork, Consequence of Sound, Paste Magazine and countless others, and in 2020 they are prepared to release their latest body of work.
Interloper sees the band adding new layers to their lush and mesmerizing songwriting style. Written about the duality between life at home and life on the road, it sees the band expanding on their most esoteric and thought-provoking themes. "I'm Not Living in the Past Anymore" is a mantra about breaking the cycle of the mundane, "Escapism" is a dream-like meditation. "Interloper" serves as the centerpiece for this self-expanding record, asking, what happens when the world beneath your feet changes so much that you feel like a stranger in your own shoes? The band turns inward, to blissed-out moments on album opener "Schmetterling", the saccharine haze of "R&B", and the freak-out catharsis of live favorite "Buddhist Pete".
With Interloper Holy Wave weaves together a contemplative tapestry that can serve as a road map for the diffident, a soundtrack to self-realization, or simply an invitation to escape.
Mint Field
Originally from Tijuana & now based in Mexico City (two of the most exciting places for emerging music & art in Mexico) Mint Field is one of the bands that helps make both cities shine. Mint Field is guided by Estrella del Sol on vocal & guitar duty, Sebastian Neyra on the bass, and Callum Brown on the drums. The band explores the nostalgia & melancholy of daily life with loud guitars and vocals; like a breath of life into a unique & supernatural style of shoegaze. The instrumentation and atmospheres are accompanied by delicate, harmonious, and ethereal vocals that are a fundamental part of the sound.
With releases such as their debut album Pasar de las Luces (2018), produced by Christopher Koltay, and the Mientras Esperas EP (2019)—both on Innovative Leisure—their sound has evolved with the influence of years touring the globe. Following the release of Pasar de las Luces, the band played over 100 shows across the United States, Mexico, and their first two headline tours in Europe. At the end of that year, they recorded Mientras Esperas in Long Beach, California—a 5-track EP that defines the live sound of the band. "Mientras Esperas was a combination of everything we had learned throughout the year and the sounds with which we wanted to experiment on our next LP." - Estrella del Sol
In Spring 2019, they toured the US and Canada with US before a summer tour through Mexico that wrapped with two sold-out shows in Mexico City.
In the Fall of 2019, the band entered Wilton Way Studios in London to record their follow-up album, Sentimiento Mundial. The recording sessions took place with the help of producer Syd Kemp & drummer Callum Brown—both members of Ulrika Spacek. This album has a cleaner, more distinct guitar sound that praises the influences of Helvetia and Thurston Moore; hypnotic bass lines that create a smooth yet complex bed; drums that gallop and ride to add a unique groove to the song; and, as always, breezy, romantic vocals from Estrella.
Sentimiento Mundial released in 2020 and was Mint Field's first album to feature guest musicians, including members of Vanishing Twin and Ha Ha Sounds Collective.
Mint Field recorded another album in Mexico City in 2021, which is set to release early 2022.
Always praised by the press, Mint Field is considered one of the most comprehensive bands in Mexico—a truly unique sound with passion & energy that takes you to unimaginable places.