Sick Jacken of THE PSYCHO REALM (DJ)
with The Jack Moves
La Santa
Ages 21 and Up
Artists
Sick Jacken of THE PSYCHO REALM (DJ)
The Jack Moves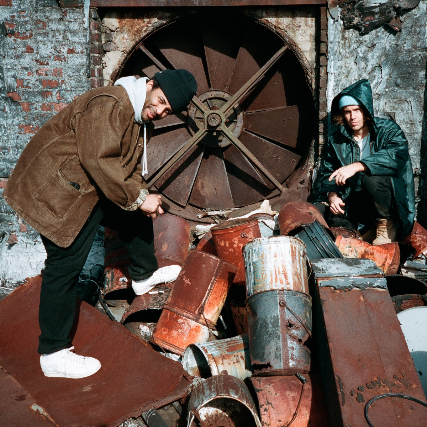 From the crummy and rude glory hole bandits of Newark's Penn Station to the cherry blossom lovers found just north of the city, there's a thread that stitches these disparate elements. Kids run across the boulevard as the soundtrack wafts over the streets. The few bucks forked over to the pregnant lady down on her luck could be the same notes used to cop a flavorful bouquet for a romantic conquest. The triggerman's itchy index is used both to spill rivals and thrill lovers. The Jack Moves are what this sounds like on wax.
Painted by a sound reflective of the city's seaside soul and the Newark Jack Swing played from transistor radios and boom boxes placed on competing window sills, The Jack Moves (Zee Desmondes, Teddy Powell) narrative is artfully carried out on the band's sophomore offering and Everloving debut, Free Money.
As with most art created in earnest, the band's music has the ability to occupy spaces beyond its origin city. A vehicle spanning coasts and subcultures, perhaps unintended. Out west, it wouldn't be surprising to hear some Jack Moves ballad billowing from a lowrider during a backseat make-out session. Meanwhile in Japan, their hit song was hawking Big Macs™ at Mickey Deeznuts. The band's self-titled Wax Poetics debut drew comparisons to "Off the Wall" era Michael Jackson, The Escorts and the Whatnauts. The Jack Moves then hit the road playing supporting dates, traveling the world. From Brixton Academy and Red Rocks Amphitheater, to the strange familiarity of the cherry blossomed avenues of Osaka and Tokyo.
And so it should come as something of a surprise that The Jack Moves would record most of their latest material on the fringe of Los Angeles, placing their intrinsically east coast essence into the hands of idiot-shaman and occasional platinum record producer, JP Plunier. But way out west the music was unshackled and this new sound was soul, untethered from the chains of the past.
Free Money twists and grooves, chugs and grinds, and sways - a modern, smashed-up hybrid devoid of nostalgic put-ons. Strangely enough this album could be the bastard child of The Stones "Some Girls" and Drake's "More Life". Underneath Powell's sepia toned soul rhythms, Desmondes' honeyed vocals sing incantations and love letters to unbelievers ("Penn Station"), lovers ("Sunshine," "Red Lights"), ancient beings ("Three The Hard Way") and addicts — both digital and pharmaceutical ("Wantin' You," "Money Clouds") — all searching for something: a fix, a fuck, a dollar, a safe place, a friend, a home. Swipe left. Swipe right. Into a tangled void of fear and longing.
These are the songs young beat-choppers will be sampling in the post-millennial era.