Little Miss Nasty - Rock & Metal Burlesque Show
with Sizzy Rocket, Wild Thingz
La Santa
Ages 21 and Up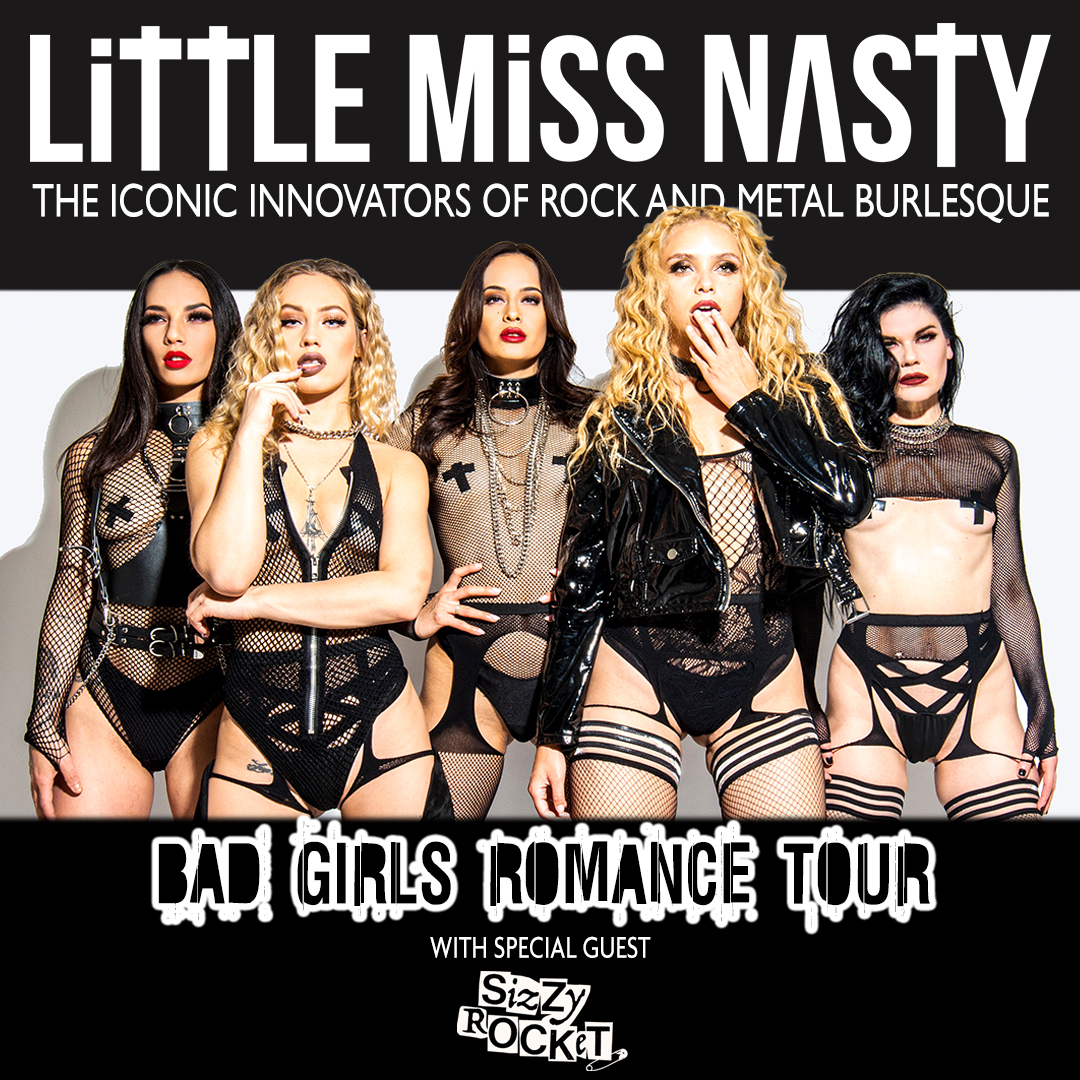 Artists
Little Miss Nasty - Rock & Metal Burlesque Show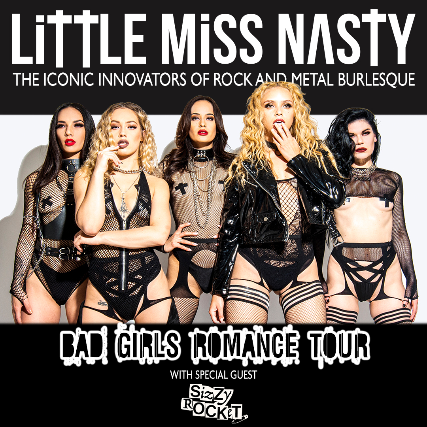 Little Miss Nasty are the innovators and iconic pioneers of Rock and Metal Burlesque and dark performance art.
Beautiful and ridiculously talented performers. Absolutely the most bad ass rock and metal (and even some hip hop and edm) Vegas style production that you'll ever see! The Little Miss Nasty live experience is a professionally choreographed production featuring some of the entertainment industry's best dancers, aerialists, vocalists and contortionists. The show is full of over the top visuals and blazingly cool music from Korn, Slipknot, NIN, Rob Zombie, RATM, IC3PEAK and others along with surprises that leave jaws on the floor and memories fired up.
Little Miss Nasty delivers an overwhelmingly powerful experience that inspires and defies genre because Little Miss Nasty IS the genre.
Everyone leaves a Little Miss Nasty show feeling sexy, empowered and full of adrenaline (seriously everyone does)!
What started as an underground, must see show at LA's historic Viper Room in 2012 has since developed into a globally recognized lifestyle brand and highly produced international touring spectacle. Little Miss Nasty has newly released, critically acclaimed original songs on your radio dial as well! Oh and how about the new cartoon series "Little Miss Nasty - The Cartoon" that debuted in July 2022! Watch that here.
In 2023 Little Miss Nasty is simply dominating with current ongoing sold-out residencies in Los Angeles, Long Beach, and San Francisco. Little Miss Nasty also has monthly sold out residencies in Las Vegas at AREA 15 and in New York City at House Of Yes! Little Miss Nasty is a traveling force to behold as it tours North America regularly.
In fact, Little Miss Nasty has performed in front of well over half a million people and counting. Little Miss Nasty has toured along side artists such as In This Moment, Motionless In White, Starset, New Years Day, Gina And The Eastern Block, DED, Orgy, Genitorturers, Lords Of Acid, and others, as well as having headlined 6 of their own North American tours.
Not only that, but the extensive dance resume of the individual members makes Little Miss Nasty a force to reckon with. They have been the main backup dancers for the likes of Nicki Minaj, Britney Spears, Beyoncé, Lady Gaga, J.Lo, Christina Aguilera, Justin Bieber, Pitbull, Katy Perry, Usher, Ariana Grande, Ne-Yo, P. Diddy, Tiësto, Gwen Stefani, Empire Of The Sun, Backstreet Boys, Ciara, Chris Brown, French Montana, Big Sean, and Nick Jonas. The members have also performed on countless MTV VMAs, The Grammys, and have been featured in The Pussycat Dolls Burlesque Show as well as during Justin Timberlake's Super Bowl XXXVIII Halftime Show. Little Miss Nasty was hand-picked by Lady Gaga to perform as the sole entertainment for the "American Horror Story: Hotel" cast premiere party, and was also Rob Zombie's choice of performers for a livestream broadcast of his record release party.
Sizzy Rocket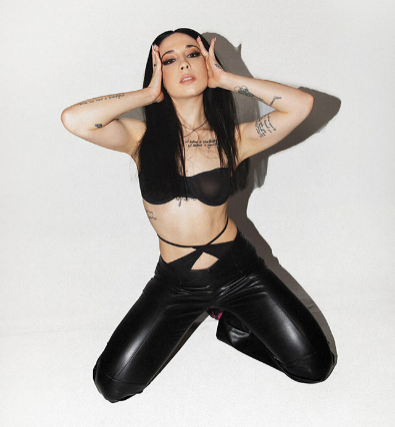 Sizzy Rocket became the sneering face of the 21st-century underground scene thanks to her viral 2016 electro-clash seducer - "Bestie" - an unapologetically profane paean about turning your BFF into one with benefits. It's easy to hear her corrupting influence on songs she's penned for artists like Blu DeTiger, Noah Cyrus, & Uffie. Also a seasoned touring artist, she has opened as direct support for Alice Glass, Shamir, KITTEN, DeathbyRomy, Boyfriend, GIRLI, VÉRITÉ, Lauren Sanderson, Imagine Dragons, and has performed at PRIDE festivals across the US. Sizzy challenges what it means to be a pop artist in 2023 with her DIY approach, poetic lyricism, and genre-blending musicality that takes influence from punk, hip-hop, electronic, and beyond.
She released her sophomore album, Grrrl, in summer 2019 and self-booked a sold out US tour with TV star chloe mk as support. Her third studio album ANARCHY brought fans and friends together for a unique virtual performance art experience, live from an abandoned theme park. The voyeuristic sex tape music video for single "Smells Like Sex" (now viral at over 13M views across platforms) received an award from Playboy and was exhibited at Miami Art Week in 2021. Her covers mixtape, TOO YOUNG TO DIE, was released to her ravenous cult fanbase via text message and accompanied by a national headlining tour with Troi Irons as support. With her newest fourth studio album, Live Laugh Love, featuring contributions by VINCINT and super producer Fernando Garibay, it's clear that Sizzy Rocket is poised for rock stardom… and she's just getting started.
Wild Thingz