Dante Elephante
with Rudy de Anda, Ray Barbee
November 29 @
7:30 pm
( Doors:

7:00 pm

)
La Santa
All Ages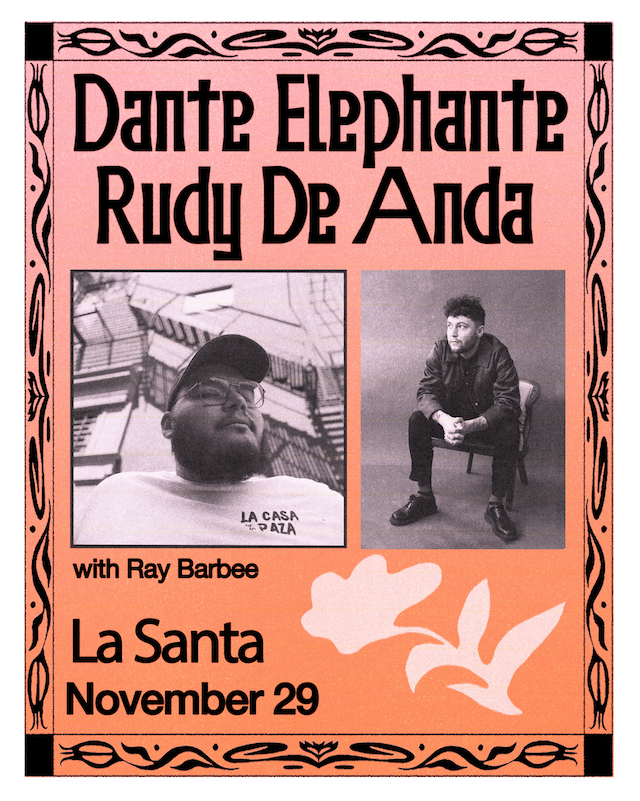 Artists
Dante Elephante
A music writer once criticized Santa Barbara while taking a stab at another band from the city by saying, "since it's near wine country rather than Orange County, it lacks the stifling suburbia that can generate great punk music as a response." Generalization or not, this statement rang true for Ruben Zarate, singer and songwriter of Dante Elephante, spending his formative years surrounded by peers whose tastes didn't deviate much from the local college party bands and Cali-reggae that has long defined the musical landscape of the town. Add to that the fact that Zarate is actually from the far less know neighboring town of Goleta, the proverbial "other side of the tracks" defined by a hazy boarder of diminished opulence. Goleta certainly lacks the affluence referenced in the aforementioned critique, and is best exemplified by the Blue Skies trailer park, who's sign is memorialized on the cover of the Atari's"Blue Skies, Broken Hearts" record."
Goleta is small town through and through. Goleta is the kind of place where in one year of high school Zarate got pulled over 16 times driving his dad's Suburban (no pun intended) home at night after work simply because it had tinted windows and after-market rims. Despite its lack of diversity and cultural stimulation, Zarate managed to avoid complacency and kept from having his musical tastes dictated by the scene around him. Instead, he dove deep into dusty old record collections, discovering and falling in love with the work of classic songwriters like Brian Wilson,Harry Nilsson, John Lennon, and Alex Chilton, and the post-punk weirdness of Orange Juice, The Pastels, The Pixies.
By the time Zarate established Dante Elephante as a full blown project in 2010 he had already done his time and paid his dues toiling in less than ideal musical projects playing the unfulfilling party music circuit in Isla Vista, home of one of the top party schools in the country. Inspired to play and write music from an early age by his grandmother, a multi-instrumentalist, and his grandfather, a self proclaimed poet, as well as his many musician cousins, Zarate was left feeling unfulfilled. However, a shot-in-the-dark Craigslist post yielded responses from UCSB students Kevin Boutin, Tommy Devoy, and Chris Lopez, all who proved to be unlikely-yet-true musical co-conspirators for Zarate. With the newly formed Dante Elephante, Zarate was finally able to explore his musical interests and shine as a timeless songwriter in the vein of his influences.
In spite of the aforementioned journalist'sassessment of the disconnect between Santa Barbara and Orange County, Zarate and company found a home and kinship with the LA based, Orange County transplants runningLolipop Records, and released the surf tinged "German Aquatics" cassette EP with them in 2013. Soon after, they took a new batch of songs into the home studio of producer Jonathan Rado (one half of Foxygen), who stripped away a bit of the surf sound and helped Zarate tap deeper into his longtime influences, a task made fairly easy due to the overlap of many of Rado's own musical heroes. The resulting LP,Anglo-Saxon Summer, is Dante Elephante at it's most fun, most exacting and most sincere —punk at heart, but with a timeless, organic sound, accentuated by Rado's key work. At its heart, as will always be, is Zarate's own songwriting fingerprint. His suburban upbringing has forever wormed it's way into the core of his art, where it serves as the catalyst and context for many of Zarate's themes. His ability to craft an anthem based on the mundane day to day, turning the trivial into the substantial, essentially making a song about nothing (in the Seinfeld-ian sense) puts Zarate's songwriting in the category of some of those other great poets of suburbia, Jonathan Richman, Stephen Malkamus, and Rivers Cuomo; its essence being the trials and tribulations of a small town existence, universal and workaday, yet cinematic and poetic.
Rudy de Anda
Born in the 1980's in Mexico and brought to California, Rudy de Anda's debut solo album, "Tender Epoch" (2020) is a love letter to the long historical lineage of rock 'n' roll music interpreted through his multicultural lens. "I write my own history; I don't want to be defined by defined by any one scene," De Anda proclaims about his personal journey, and his ability to adapt and flit between cities and cultures is part of the reason L.A. Record has called his sound "deliberately difficult to categorize, familiar but novel at the same time."

De Anda's origin story has more locations than most and the staging is a perilous task: his childhood in Compton, his move to Long Beach, then a few months in Mexico, then back to the States.As an adult, he had a solo trip to Chile to see El Guincho's show, a trip that meant so much to him that he realized the profound impact Latin music has on his adult life.

Amidst incessant moves, one constant in De Anda's history was the omnipresent soundtrack in his Hispanic home: from rock and bossa nova, to crooners, ballads and even traditional Mexican music. These sounds of his roots and the angst of the punk bands he embraced as a teenager would soon intertwine harmoniously.

The most influential figure in De Anda's storied upbringing was without a doubt Ikey Owens of The Mars Volta and Jack White's band. The late, great Grammy-winning producer struck a friendship with De Anda early on, when he was a teenager to whom Owens would give vinyls and tickets to shows. Owens took a young De Anda under his wing and invited him into his world and into his studio. This is where De Anda began to piece together a solo record, on his mentor's 8-track, which for the first time felt more personal in execution, and tackled the intimacy and romanticism of generations of the artist's past, while still employing the scrappy punk rock attitude he has always placed first and foremost in his music and life's work.

Since 2005, De Anda has played thousands of concerts in various musical projects, but with "Tender Epoch," which was the first album he recorded under his own name, he clearly found his own voice, with a lot of stories to highlight. This is exquisitely crafted pop, with universal messages of heartbreak and loss that are still appropriate if played at full speed on the freeway in the coastal sun. Carving his own path through a wild ride that just won't seem to let up, De Anda refuses to get comfortable or comfortable, and instead has created a classic album that will undoubtedly set a standard for songwriting in the future.
Ray Barbee
Ray Barbee is a skateboarding pioneer and musician who put No Complys on the map in the 90s. If you've never seen his video parts or listened to his music, you need to. Just like the soulful sounds he makes with his guitar Ray has been a peaceful and compassionate presence in skating since what has felt like forever.
We are super stoked to say Ray Barbee is now a No Comply Network Member.
We called him up to chat about how he learnt to do No Complys, the true meaning of the trick and his thoughts on its modern resurgence, filming for Powell Peralta's Public Domain video, playing in bands with Lance Mountain, getting inspiration from Tommy Guerrero, The Gonz, Natas and trick influences from Rodney Mullen, how creative interpration can take us forward on and off our boards, filming for the Firm Video 'Can't Stop The Firm' with Kurt Hayashi and Anthony Claravall, shooting with No Comply Members Anthony Acosta, Jon Humphries and French Fred, getting twisted for Vans' Propeller video, why he thinks shredding on a board and a guitar are similar, his upcoming music projects and much more.