Tropicalisimo presents
Son Rompe Pera
with Sonido de la Frontera
November 30 @
9:30 pm
( Doors:

9:00 pm

)
La Santa
Ages 21 and Up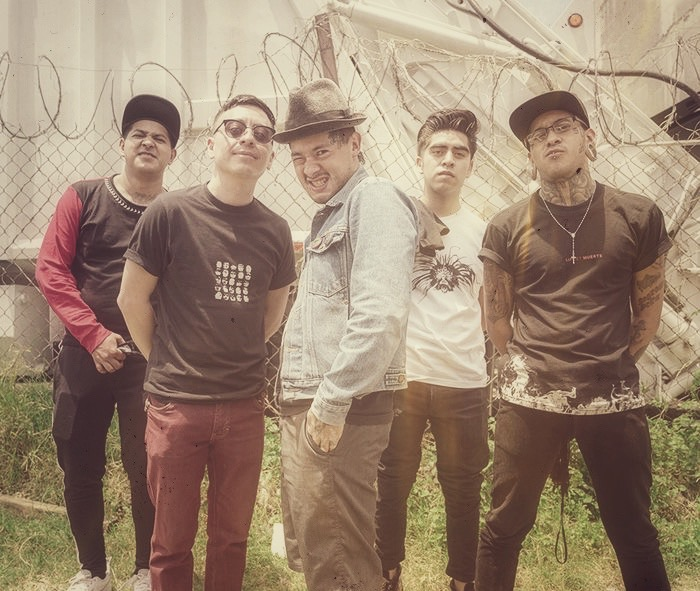 Artists
Son Rompe Pera
Born and raised in the deep outskirts of Mexico City, the Gama brothers are keeping alive the rich legacy of marimba music running through their family with their latest project, Son Rompe Pera.
While firmly rooted in the tradition of this historic instrument, their fresh take on this folk icon challenges its limits as never before, moving it into the garage/punk world of urban misfits and firmly planting it in the 21st century.
Originally performing alongside their father at local events since they were kids, they now find themselves at the forefront of the contemporary international cumbia scene with their sonic explorations of the classic marimba. Their absolute unique blend comes from a typical youthful rebellion, when as teenagers they left behind their upbringing on the marimba and began to play in various punk, rockabilly and ska bands.
Now they've gone full circle with the marimba back leading the way, and mixing all of their influences together with their energetic take on the popular instrument, giving it a new twist never before seen in Mexican folk music.
Their live shows are a sweaty mess of dancing fans, and this garage-cumbia-marimba-punk band (the only band of its kind in the world) never disappoints on stage. Their authenticity shines through as they give their modern interpretation of Mexican, Peruvian, and Colombian classics, as well as their own original material and some surprise covers. The contrast of the traditional marimba with their youthful attitude and street sense connects the audience to the past while they dance into the future.
Sonido de la Frontera
Sonido De La Frontera is the combination of Soundsystem culture, hip hop production aesthetic, and the sounds of Latin America's most prolific dance music: Cumbia. The result is a bass oriented, dance driven music with a sound unique to the border between San Diego, California and Tijuana, Mexico. This trio is made up of Karlos Paez, Mr. Henshaw, and DJ Unite. Karlos Paez is an energetic frontman, also known for his role as vocalist for San Diego's premiere Latin Music project, The B-Side Players. With his unique vocal styling and ability to deliver a magnetic performance, Karlos produces lyrics that seduce a dancer to cut loose, while inducing the spirit of both culture and rebellion. Mr. Henshaw is the producer for First Power Crew, and has produced many break records directed towards the avid turntablist. His sound is dark and heavy, with an emphasis on big drums and bass, as evident in his current projects Planet B and Satanic Planet. DJ Unite is a veteran DJ for Tribe of Kings Soundsystem as well as First Power Crew, who cut his teeth on dancefloors nationwide. Unite is well versed in keeping dances energetic, with a musical arsenal that spans for many genres. Sonido De La Frontera is a mixture of all the different sounds and culture found in the southernmost part of California, San Diego. It is cumbia music with a production approach similar to hip hop and electronic music.

The Sound System is at the heart of many genres of modern music. People gather to hear their favorite music over massive speakers, and dance for hours on end. At the center of these events is the DJ, raising the energy of their crowd by selecting the right tune at the right time. In Mexico, these DJs are hailed as Sonideros. Sonido de la Frontera's lead single "Somos Sonideros," from their forthcoming album Sonidero Guerrillero, is an anthem which has an unquestionable message: "Somos Sonideros, de la Frontera". Lead Vocalist Karlos Paez delivers both inspiration and intention, which is thoughtfully delivered over an infectious Cumbia rhythm. The song is drenched in Sonido de la Frontera's signature sound, which combines the many influential sounds found in their hometown of San Diego, California.